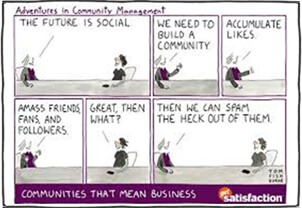 That social media has disrupted the traditional alumni engagement process is trite wisdom today. Gone are the days when alumni associations spent most of their resources on organizing traditional events such as homecoming day, alumni awards, and class reunions. Alumni engagement has moved from offline to online activities. In recent years, colleges have made concerted effort in building vibrant online communities on Facebook, LinkedIn, and Twitter. And quite a few have succeeded in doing so. Yet this social media engagement has had little impact on donor participation rates. Why? And what can be done about it?
An engaged online alumni community on social media platform should increase donor participation rates. The logic is quite straightforward. Affinity and engagement go hand-in-hand. Affinity is a driver of engagement, and meaningful engagement strengthens affinity. Social media posts, for example, that rekindle college memories, rejuvenate old friendships help strengthen the kinship that alumni feel towards their alma mater. This positive sentiment in turn should increase alumni's propensity to give money and help the college.
Yet, while most colleges have succeeded in creating vibrant social media communities, it has not lead to an increase in donor participation rate. Understanding the reason for this disconnect is the key for colleges struggling with stagnating or declining participation rates. Let's take a closer look at my alma mater, University of Wisconsin at Madison, to illustrate this dilemma.
Today, UW Madison has close to a quarter million fans of its Facebook page. This is almost six times the 40,000 undergraduate and graduate students enrolled this year. That's quite impressive! Sure a lot of these Facebook fans are passive followers and fans. But many alumni are actively engaged. Every week, the colleges 5 posts on its Facebook Page, generate about 4,000 likes and 400 shares. That's about 200,000 interactions a year. And what's also remarkable is that fan base is continuing to grow. Over the last 6 months, as per Socialbakers, a website that tracks historical social media engagement, the college has added 2,600 fans every week. A remarkable success story.
Yet despite this success there has been no surge in UW Madison's donor participation rate. According to UW Foundation's Annual Report, in 2014, the total numbers of donors were 79,000. An increase of only 4 percent over the 2013 donor count. The data of other colleges tell a similar story. While social engagement is on the rise, it has had little impact on fundraising. Despite the promise of Social Media, most college's donor participation rates have not improved. In fact, participation rate for private and public colleges has decreased from 11 % in 2012 to 9 % in 2014.
Why is that? Shouldn't greater online social media engagement lead to increase in participation? Yes, it should.
The main reason this is not happening is that colleges have not changed their traditional marketing techniques – direct mail and phonathon – to use the information from the social media engagement. For fundraising, the real value of social media alumni communities is in the predictive intelligence it provides. Alumni who like, share, comment on a Facebook or Linked post or a tweet are more likely to give than those that are not engaged socially online. Colleges need to use the online engagement information to focus solicitation efforts on alumni that are most likely to give. And then colleges have to use integrated multi-channel communication tactics to reach out to these alumni. Once colleges start doing so, the participation rates will start increasing.
The real value, in other words, from a thriving engaged social media community, is from the intelligence it provides on alumni that feel a strong affinity towards the college. Social Media Platforms make it a little hard to extract this intelligence. One can do it for a handful of prospects as for the major gifts program. But extracting this information for tens of thousands of constituents can be tricky. There are a few service providers who have built tools and processes to do so. The key to improving participation is the use of this intelligence. Until colleges figure out a way to do so, their participation rates will continue to stagnate,
The Fallacy of Inbound Marketing
Social Intelligence for B2B Data Quality Problem