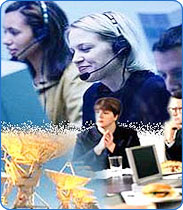 Founded in New Haven, Connecticut in 1981, Lester, Inc. began as a small teleservices company primarily offering telephone subscription renewal and fund-raising services. Over time Lester, Inc. has evolved into a full service BPO organization with an array of services, which now also includes fulfillment, data management, inbound and outbound customer service options, web chat and email response services.
In 2003, Lester, Inc. developed a strategic partnership with Enlink, located in Mumbai, India. Enlink specializes in tele-services, technical support and back-office processes. Enlink was among the first companies in India to offer Fortune 500 companies web-chat and e-mail based customer interaction services.
The strategic partnership between Lester, Inc. and Enlink culminated into a merger of the two companies with compelling benefits for Lester's customers: highly competitive pricing, new services and expanded technology. These benefits combined with Lester's proven commitment to quality and customer service, positions Lester uniquely in the industry.
Lester, Inc. now has 3 service delivery centers, located in Connecticut, Kentucky and Mumbai, India.